The Singapore Cocktail Festival (SGCF) is in full swing until the 21st of May, and a good number of the top bars around town are all participating in the action. These watering holes all feature a signature cocktail exclusively for SGCF, at a special rate of $18++ if you have the SGCF wristband for the City Takeover promotion.
You can find full details of all of this year's SGCF cocktails here, as well as our Ultimate Guide to the Singapore Cocktail Festival, which highlights not-be-missed booze events, bar collabs, and much more.
There are 47 bars featured in this year's City Takeover, so we thought we would break-down some of our top-picks to check out — drinks that stand out the most to us in terms of flavour and creativity, with an overall "wow" factor.
As cocktail enthusiasts who regularly frequent top bars for tasty libations, here are some SGCF cocktails we are most curious to try and why.
Penicillin Fizz at Analogue
The bartenders at Analogue have created a cocktail named Penicillin Fizz, and they boldly claim it is their upgraded take to the classic Penicillin cocktail, which just happens to be our personal favorite drink. At this bar, it is made with Naked Malt Whisky, housemade vegan honey-ginger reduction, topped with soda and finished with an Empirical's chili-based spicy spirit Ayuuk. It sounds deliciously refreshing with a kick, and needless to say, we are very intrigued if this cocktail can live up to the claim that it is an upgrade to its classic counterpart.
Yin Yang at Stay Gold Flamingo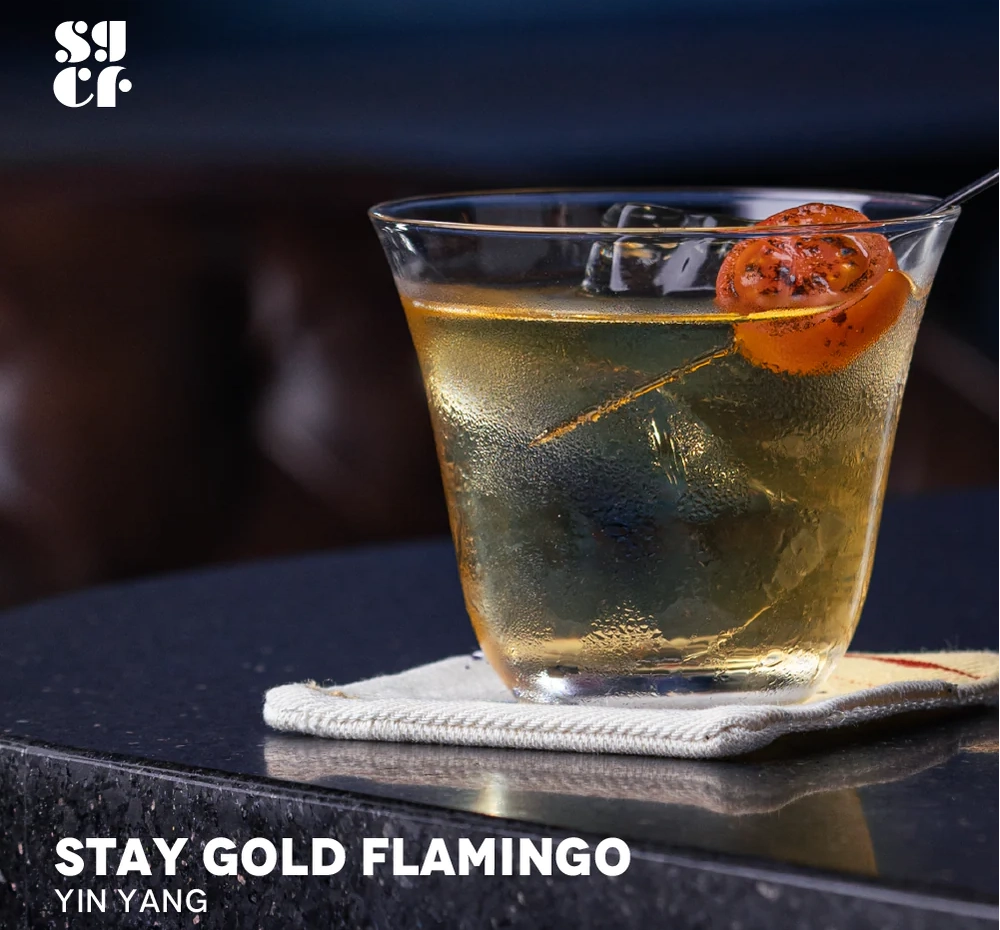 For its SGCF exclusive cocktail, the folks at Stay Gold Flamingo have created the Yin Yang: a gin milk punch inspired by the traditional Hong Kong coffee shop drink. It features Monkey 47 Gin, housemade cold brew coffee, and a contrasting brewed tea. Although we are big fans of tea and coffee-infused cocktails, we've never experienced both in the same drink. It's because they tend to have very contrasting drink profiles — tea cocktails are more floral and refreshing, while coffee cocktails tend to be creamy and intense, with a spotlight on the bold coffee flavours in the center. It will be interesting to see and taste how the two flavours come together just as Stay Gold Flamingo described it: a refreshing juxtaposition.
Bread and Butter at Smoke and Mirrors
Inspired by its namesake dessert, Smoke and Mirrors' Bread and Butter sounds like an ambitious cocktail that will either open up our horizons of cocktail experiences, or fall flat, and we'll tell you why. The butter-fat washed Monkey 47 Dry Gin is used as the base, which will add a rich dimension to the cocktail. This drink also features barley and pineapple, which should pair nicely with the gin. It will be interesting to see if we can pick out the butter fat flavour — intriguing enough on its own. And if the drink can really bring to mind the bread and butter pudding, well, then hats off to them.
Smokes & Chicks at Sago House
The team at Sago House have created Smokes & Chicks for the SGCF City Takeover series, and we think this cocktail is one of the most interesting ones of the bunch. Inspired by Double Chicken Please NY — a bar in New York known for its drinks inspired by food dishes, which recently placed first in the 50 Best Bar Awards in the U.S. — this Singapore drinking spot has paired a smoky Scotch whisky with succulent chicken flavours using homemade chicken cordial soda with green apple. It sounds like a very risky experiment that can either go very wrong or blow your minds, but Sago House rarely disappoints, and we are excited to give it a try and be pleasantly surprised.