Cookies: such simple, sweet treats that are so universally loved. Chocolate, nuts, oats, vanilla beans — there are so many flavor possibilities to play around with. From exotic flavors to the classics, the varieties to choose from are endless. We know that each person's ideal cookie preference is a bit different, so we went on a hunt for the best cookies in Singapore to satisfy every palate.
The Cookie Museum
This cookie shop specializes in gourmet cookies, cakes and bakes. The brand has been serving the Singapore community for 18 years, and has two locations in the city. From exotic flavors such as Champagne Lychee Liqueur to Singapore Chili Crab to the simple Chocolate Chip, this cookie shop caters to all whether you're craving something simple or a little new.
Address: Various Locations
Opening Hours: Daily from 11am-9pm
Website | Instagram | Facebook
Nasty Cookie
These turquoise blue outlets are sure to catch your eye. Nasty Cookie started out as a home-based bakery in October 2018, and eventually made its way to the retail scene in June 2019. It is Singapore's first NYC style gourmet cookie store, serving gooey, chunky and crunchy cookies. They cater to all different cookie preferences and have an abundant range of flavor options. From Chocolate Chip to Dark Chocolate Chip, to Biscoff and Red Velvet, you'll definitely walk out with more than one sweet treat!
Address: 277 Orchard Rd, #B2-10 Orchard, Gateway 238858
Opening Hours: Daily from 12pm-9:30pm
Website | Instagram | Facebook
Cookie Mixx
Serving up mini-sized crispy cookies, Cookie Mixx is the place for those who adore crunchy yet flavourful cookies. What makes this store so interesting is all of its cookies are made-to-order, so guests can enjoy the sweets fresh out of the oven. Additionally, these goodies are made with low sugar in mind, with no added preservatives or coloring. This local business strives to create cookies that are healthier and more wholesome without sacrificing taste.
Address: 391A Orchard Road, Takashimaya B2 Food Hall, #B208-4, Orchard Rd, 238873
Opening Hours: Daily from 10pm-9:30pm
Website | Instagram | Facebook
Kooks Creamery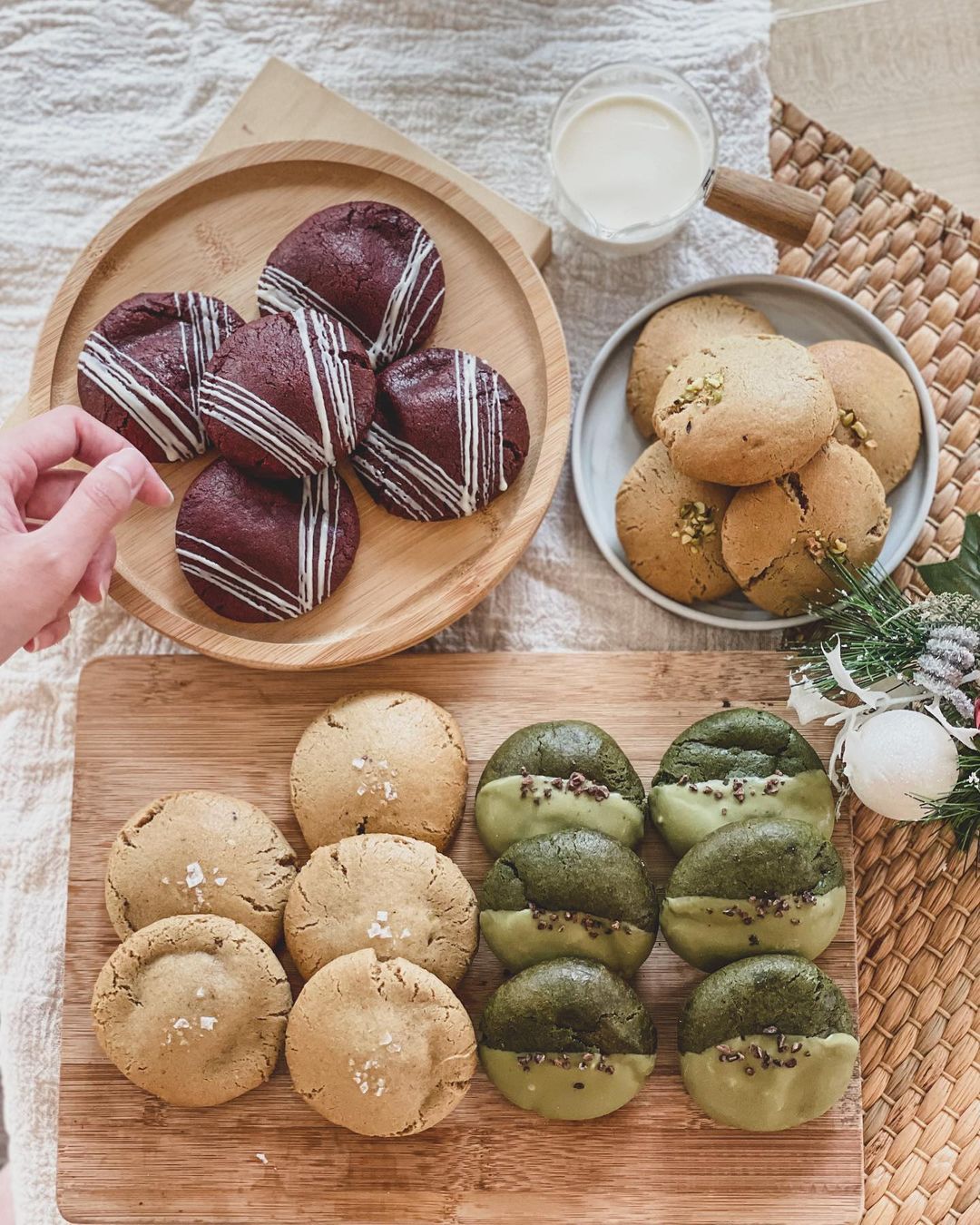 Looking for that gooey center? Kooks Creamery specializes in lava cookies. Its chunky and chewy cookies are filled with a flavored center, which is heaven for anyone who adores this type of treat texture. From the simple sea-salt chocolate chip to matcha bites with a Nutella filling, you can visit any KOOKS store for a taste. Shoppers can also place an order online and have them delivered to your doorstep.
Address: Various Locations
Opening Hours: Daily from 12pm-10pm
Website | Instagram | Facebook
Bundt by The Backyard Bakers
Coined as the OG #browniedealer, the Backyard Bakers are definitely a bakery to visit. Although this store does not specialize in cookies, its "brookies" collection should hit the top of your list. Merging the softness of a brownie and the firmness of a cookie, these "brookies" deliver the perfect soft and chewy combination. With more than 20 choices to choose from, there is an option for everyone. We love its Valrhona Double Chocolate and Sea Salt flavor.
Address: 2 Havelock Rd, #01-22, Singapore 059763
Opening Hours: Weekdays from 8am-4pm and Saturday from 9am-3pm; Closed on Sundays
Website | Instagram | Facebook
Zee & Elle
Zee & Elle specialize in all kinds of baked goods, but its mini cookies that come packaged in minimalistic jars are not to miss. One look on its Instagram page and you'll see how this business embodies simplicity, delicacy and perfection into its sweet treats. Its cookie line currently features 3 flavors: Midnight Bliss (espresso sea salt), Afternoon Meadows (earl gray white chocolate), and Morning Rhapsody (cranberry coconut).
Address: 524 MacPherson Rd, Singapore 368215
Opening Hours: Tuesday to Friday from 11:30am-7pm, Saturday from 10am-5pm, and Sunday from 10am-2pm; Closed on Mondays