Instant noodles — a packet of dried noodles filled with rich and flavourful MSG — what's not to love, right? The instant-noodle industry has expanded exponentially during the past few years, with many companies coming up with new and unique flavors and condiments. When it comes to these comforting and quick meals, the choices are limitless: from the infamous Maggie Mee to Japanese ramen noodles to Korean fire ramen, there is definitely something for everyone.
When the opportunity to create a unique experience arose, Kent Teo, Founder and CEO of Invade, took a dive into creating an instant noodle-themed experience playground. That's how Slurping Good! was born, and it is situated right next to his other brainchild, Eatbox.
While there are similar experiences and concepts overseas, this is the first interactive instant-noodle experience in Singapore.
"When we were brainstorming ideas, we thought that the common language that can unite us all is the idea of instant noodles, [a] cup noodles kind of experience," Teo explains to Native.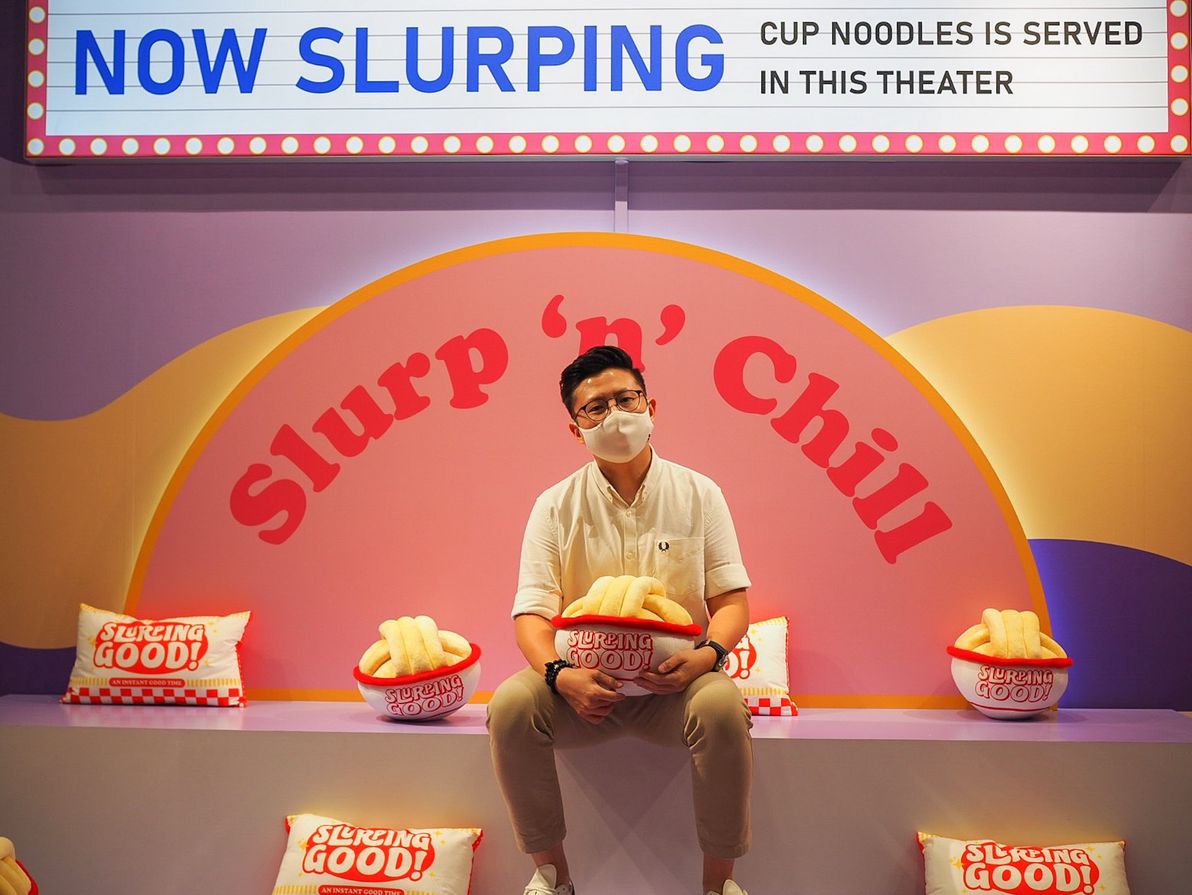 Opening from 25 September 2021 to 30 January 2022 at Tekka Place (next to Rocher MRT), this exhibition features 13 unique art installations featuring our beloved instant treat.
"What we are trying to do here is [create] a platform to bring joy and happiness to everyone," says Teo. "​​It's an alternative, activities-based playground that people can come in and enjoy. I think it is something that is quite different from your usual hangout spot."
Here, expect eye-catching murals and interactive games, from a fried-egg wall to a crab-stick bench. Upon entering this whimsical space, visitors will walk through a noodle archway, representing the start of any perfect instant-noodle dish. As you make your way through this installation, you'll be surrounded by your favourite crispy noodle treat before venturing on.
From here, explore various interactive rooms filled with murals, swings, slides, and games celebrating important instant-noodle toppings, from broccoli and cheese to eggs and spam. Get your cameras ready, as each themed room makes for Instagrammable shots — sit on top of a giant can of ham, or swing around in a pot of instant noodles.
This exhibition also features the infamous instant-noodle brand, Nissin, the pioneer of instant noodles. There are two Nissin-themed installations within this exhibition for guests to enjoy, including a 1.7 metre-tall instant noodle cup and a Chu Qian Yi Ding slide.
Our favourite photo op was definitely the giant instant cup noodle, where we could imagine ourselves submerged in the tasty broth.
This exhibition's second floor offers a selection of curated merchandise, featuring local brands and artists. Pick out some instant noodle-related souvenirs on your way out — our eyes were set on the egg bath mat, soft noodle plushie, and adorable ramen earrings.
Look out for its ramen wall, featuring a myriad of ramen noodles from Nissin, Nongshim, and other local brands. It also includes uncommon varieties not found locally.
Craving for a bowl of comforting instant noodles by the end of this exhibition? You're in for a treat. Here, visitors have the opportunity to create their dream cup noodle in collaboration with Soul Good Noodle Bar, located at Eatbox next door. Choose from an extensive menu of noodles, toppings, and sauces that will be served up piping hot, which is a satisfying snack after all that walking and photo-taking.
Keep scrolling for some more photos of our visit to Slurping Good!