While Singaporeans love the hustle of life, it is also important to have a little downtime — one way to do so is to channel our inner artist.
Fun Drafting Singapore is a new art-jamming haunt in town, where you are able to get your creative juices flowing, and customise your own denim jacket. One of the first of its kind in Singapore, this unique studio allows its guests to create their own wearable artworks.
Located in Nordcom II, this quaint studio is as homely as it gets. Upon entering, we were warmly greeted by owner Kenn and were told to make ourselves at home. We were also told to take off our shoes and use their comfy slippers instead.
As we walked through the studio, we were met with previous artwork created by the team. The studio was filled with bright art pieces, bright lights, and even an area just for pictures.
First, we were allowed to choose which kind of denim jackets we wanted. Here, they provided us with an array of designs, sizes and colours — each jacket was not too thick either, perfect for the Singapore climate.
Once we had chosen our jackets, and picked our designs, we had to stencil our art onto the jacket. We were also told that some customers chose to paint their jackets by hand, with no stencils at all. I had decided on a simple flower art piece, which I originally thought was going to be quick and easy.
We were then given a few hours to start painting our art pieces.
The studio provided an assortment of acrylic paints, from pastel pink to neon green. While I had done my fair share of painting on different mediums, painting on denim was not easy. A few coats of paint had to be layered on, in order for the denim blue to be fully covered. Putting brush to canvas was definitely the hardest part. Fortunately, Kenn reassured me that mistakes could always be rectified.
After we had completed our pieces, our jackets were sprayed with varnish to keep our artworks from staying on the denim. We were also told to not wash them for up to 48 hours for the best lasting effects.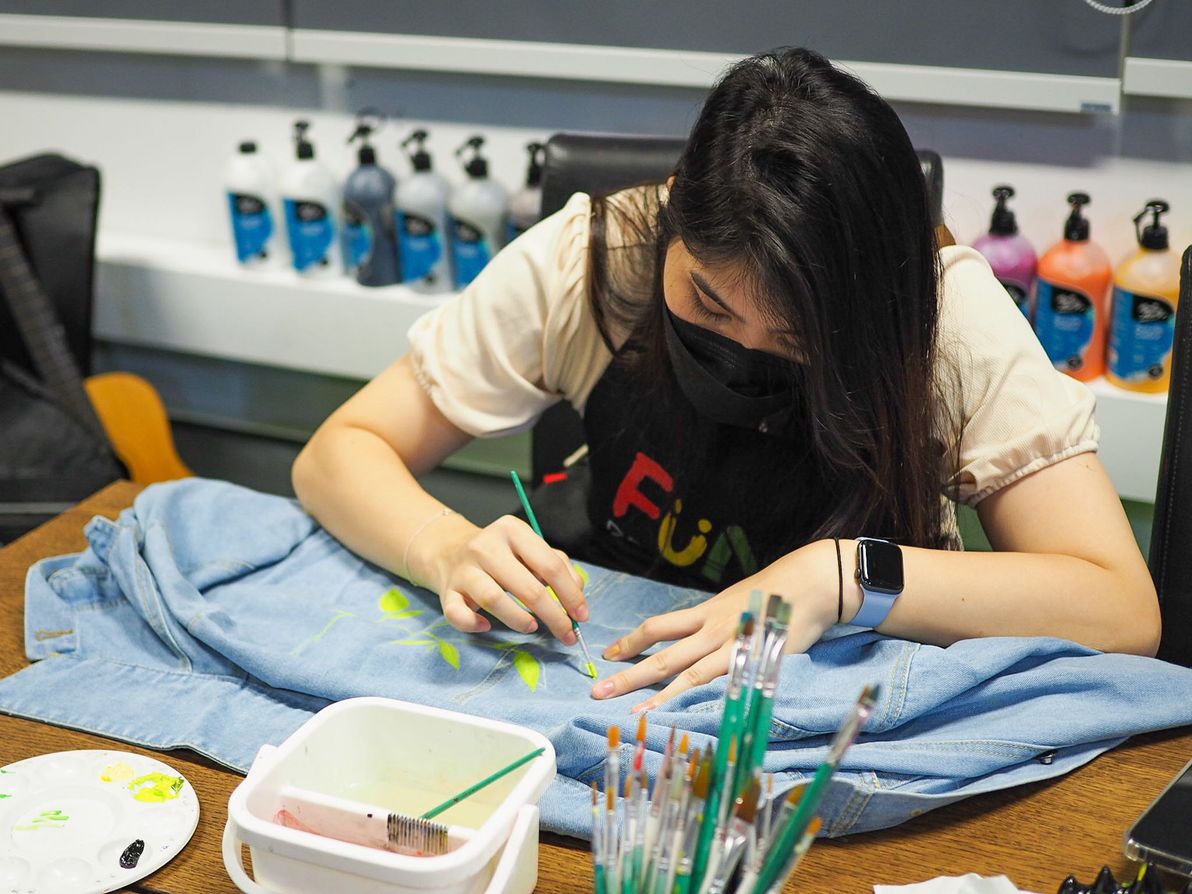 Although we were given three hours for the entire process, this workshop definitely went by much quicker than anticipated. Throughout the process, the team would check up on us regularly, and helped us whenever we needed some assistance.
Whether you are a professional painter or a novice at art, Fun Drafting offers workshops for all. Regardless of skill level, the team patiently guided us at every step.
If you are looking for something relaxing to do this weekend, try out Fun Drafting Singapore, and customise your very own denim jacket that you'll be able to flaunt to others.
This article is in partnership with Fun Drafting Singapore
Fun Drafting Singapore
Address: 2 Gambas Crecent, Nordcom II, Tower 2, #09-35 Singapore 757044
Opening Hours: Monday to Friday from 10am–1pm, 2pm–5pm, and 7pm–10pm; Saturday and Sunday from 10am–1pm and 2pm–5pm