Just in time for Halloween 2021, here is a compilation of some of the most haunted places in Singapore that are bound to keep you up at night.
So ask your group of daredevil friends to tag along for some haunted exploration — only if they dare, of course.
Pasir Ris Bird-Watching Tower
More infamously known as the "Suicide Tower", the Pasir Ris Bird-Watching Tower is a three-storey tower located in Pasir Ris Beach. By day, it is an unassuming, tranquil bird-watching tower, but come nighttime, things start to take an eerie turn.
An urban legend explains how the "Suicide Tower" got its name, and it supposedly involves a boy with a "third eye" who could see spirits. He saw something in the tower and told his friends about it, prompting them to cycle to the tower at night. While his friends were resting below, he ran up the tower and jumped down. In his last few breaths, he told his friends there were entities in the tower who pushed him off.
In more recent times, there has been an influx of spirit sightings at the tower. People have claimed there are two pontianaks (a vampiric female ghost in Malay and Indonesian folklore) waiting at the top.
Address: Along Pasir Ris Central, Opposite Pasir Ris MRT Station, Singapore 519639
Amber Beacon Tower
More than 30 years ago, an attack occurred in the Amber Beacon Tower, where a couple was sitting on the stairs and enjoying their night. Both of them had known each other for almost 10 years, but they only recently started dating. Two masked men stabbed them out of the blue, with the male stabbed in the back and the female in the neck while trying to run away.
The male was able to fight the assailants off and attempted to seek help for his girlfriend from a nearby restaurant. The couple was brought to Singapore General Hospital, but the female succumbed to her neck wounds. Today, people claim to see a ghostly lady in white haunting the Tower, and sometimes even bloodstains on the steps.
Address: 920 East Coast Parkway, Singapore 449875
Neo Tiew Estate
An abandoned HDB estate located in Lim Chu Kang, Neo Tiew Estate is one of the many allegedly haunted places in that "ulu" area. It is named after one of Singapore's most prolific businessmen, Neo Tiew (1884–1975), who built hospitals, schools, and roads in the Lim Chu Kang area. The Neo Tiew Estate is currently being used by the SAF for Urban Warfare Training, so it is not open to the public.
Legend has it a pontianak haunts this area: a gambler seemingly trapped a pontianak in Neo Tiew Estate after he forced it to help him win the lottery (he refused to remove the seven pins pinned to a tree, which he used to summon the pontianak in the first place).
Another urban legend is that taxi drivers near this area tend to pick up ladies in white or red, who then request a journey to the nearby Lim Chu Kang Cemetery. When the drivers arrive, they realise they have been given "hell notes" as payment.
Address: 3 Lim Chu Kang Rd
Old Changi Hospital
When you think of haunted places in Singapore, you're bound to think of Old Changi Hospital. Known as the most haunted place in Singapore, with paranormal investigators capturing "shadow people" on camera, as well as sightings of soldiers from World War II, little boys, security guards, loud noises, and banging.
Used as a torture chamber by the Kempeitai during World War II, the area was evacuated in 1997 to form the Changi General Hospital in Simei. It is now government property, so use discretion if you choose to explore the surrounding area.
Address: 24 Halton Rd, Singapore 506997
Haw Par Villa
Another one of Singapore's most haunted spots, Haw Par Villa has a story that will send chills down your spine. Originally built as a theme park by the two brothers who also founded the popular ointment Tiger Balm, it was rumoured they had hired a witch doctor (also known as a bomoh) to sneak into the park late at night to communicate with spirits.
It was the witch doctor's job to grant people's wishes, but he had to talk to spirits to assist in his powers. But after he made use of these spirits, he left them in the park. With nowhere left to go, the spirits had no choice but to possess the statues around the park, and particularly the Ten Courts of Hell attraction.
Today, the security guards who patrol the park claim to hear blood-curdling wails and screams while on-duty, and some even spend their money on offerings in an attempt to appease the spirits.
Address: 262 Pasir Panjang Rd, Singapore 118628
Kubur Kassim
The neighbourhood Kubur Kassim is located in is called Siglap, which literally means "the dark one". It was named after an incident in 1821 involving a solar eclipse. This 90-year-old cemetery is home to the "Orang Bunian", a human-like supernatural creature in Malay folklore. You can find grave spots in this cemetery that are dedicated to the creature.
A pontianak is also said to roam the cemetery, inspiring the classic Malay film: Pontianak.
Address: 426 Siglap Rd, Singapore 455933
Istana Woodneuk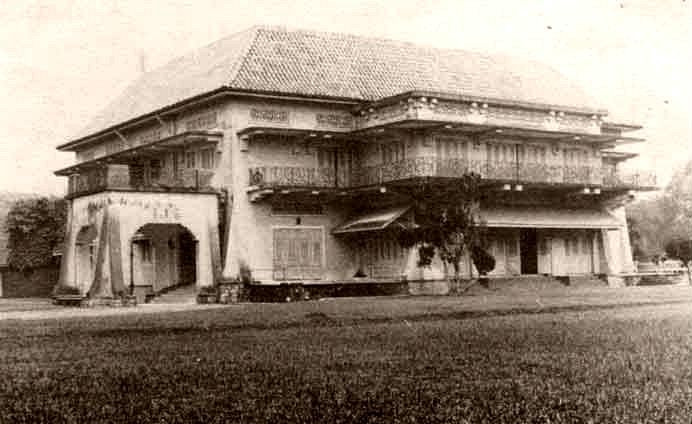 Famously known as the most expensive haunted house in Singapore (it's worth $4.7 billion!), Istana Woodneuk was built by a Sultan of Johor as a gift for his fourth wife. It was first built in 1854, and back then it was known as the "Tyersall House".
When World War II reached our shores, this mansion was used as a General's headquarters and a military hospital. In 1942, a bombing occurred that took the lives of around 700 people. A fire also broke out in 2006, severely damaging the abandoned property even more. The building is covered with graffiti, some of which include the number 666, and upside-down crosses. Rumour has it this area is a hotbed for Satanists and their dark rituals, but we'll leave that up to your imaginations.
Address: 766 Tyersall Ave, Singapore 257699