i Light Singapore has made its anticipated return at Marina Bay waterfront after a two-year hiatus, no thanks to COVID-19. This sustainable light, sound, and visual extravaganza runs until June 26, so there is still time for locals and tourists to visit this top attraction.
We visited during a media preview, getting a sneak peek of more than 20 light installations created by Singaporean and international artists wanting to inspire people to adopt sustainability into our daily habits. Offering a diverse range of activities for visitors to enjoy, including GastroBeats and LightWave: Isle of Light, this well-loved festival continues to light up the city as its annual ritual.
With eye-catching, Instagrammable, and beautiful light-art installations, i Light has a little something for everyone, regardless of gender or age. Here's what to expect during your visit, and our pick of creations that shouldn't be missed.
Gastrobeats
Ranging from live music to delicious food, this program allows you to dive into Singapore's hawker and street food culture, epic graffiti art, and a colossal food-themed inflatable park. Featuring over 30 food vendors, attendees will have a hard time deciding what to indulge in first. We definitely recommend the Praffles (yes, you read it right!): it comes in both sweet and savoury flavours, but our personal favourite was the truffle cheese.
Eyes of the Sea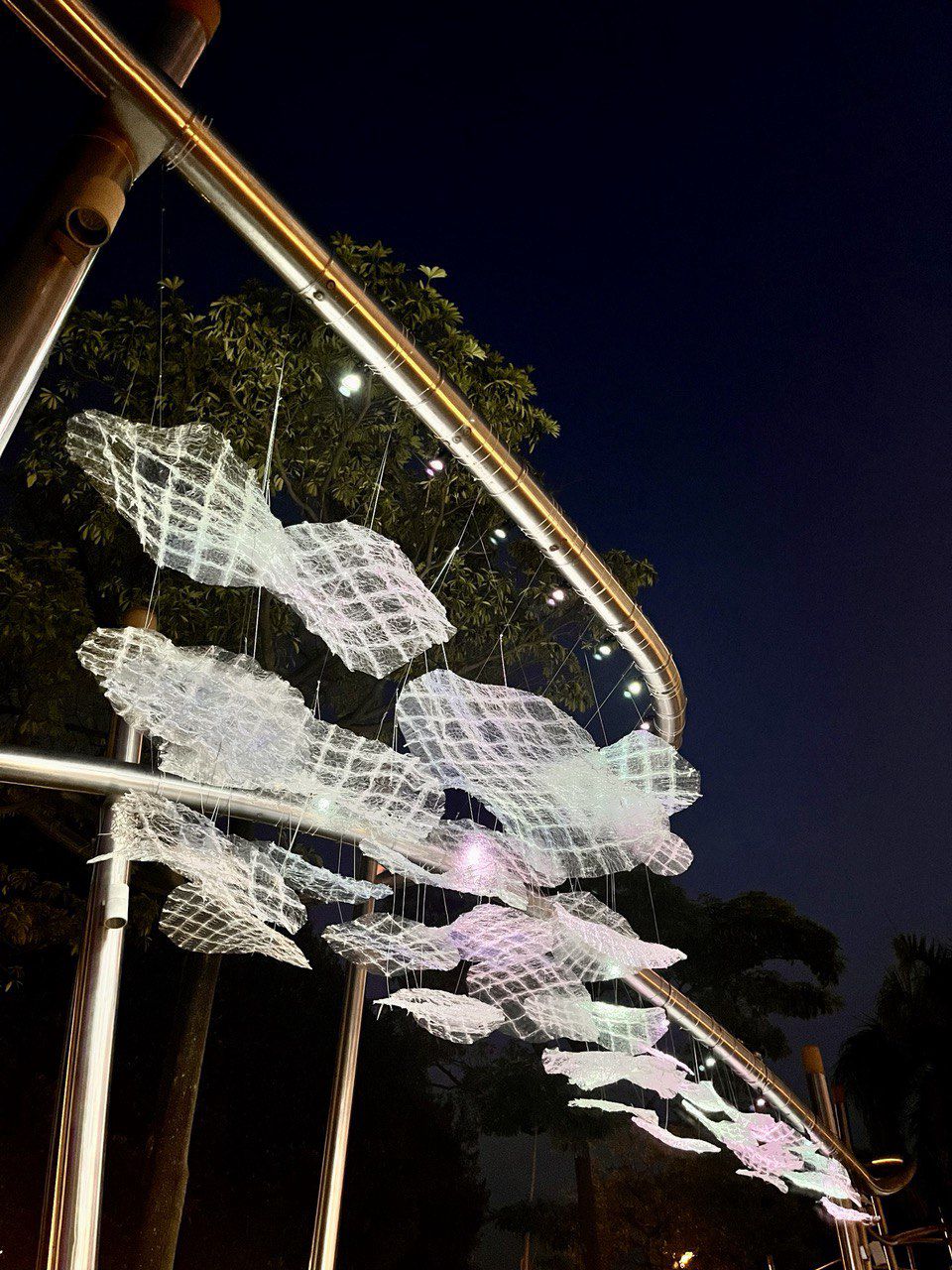 Created by Team Panorama hailing from Singapore, Eyes of the Sea is an upcycled installation that draws attention to the rising issue of discarded plastic choking the oceans, and how it is endangering the world's precious marine ecosystem. Find it along the Mist Walk.
Ruffled Ice
Another local installation is the Ruffled Ice, created by DP Design. Also located along the Mist Walk, this artwork highlights the excessive usage of plastic packaging in our everyday lives. By depicting ice caverns and melting icebergs sculpted from redundant packaging materials, DP Design turns trash into art and simultaneously shines a light on the enormous damage discarded plastics have on the environment.
Collective Memory
Take a walk along the Breeze Shelter and you might just come across Collective Memory, a creation by LiteWerkz, the winner of the i Light Student Award 2020. Collective Memory honours the evolution of digital storage by shaping upcycled CDs into a shimmering landscape that reflects light in different colours.
Keep On Moving
From the creative mind of Ivana Jelić is the striking installation Keep On Moving, showcasing a group of people running. Inspired by Chronophotography, an antique photography technique that captures frame-by-frame movement, Keep On Moving will continue running in your mind even after you leave the Marina Bay Waterfront Promenade area.
Firefly Field
One of the most memorable installations at i Light Singapore is the Firefly Field, brought to us by none other than TOER from the Netherlands. Located at The Promontory at Marina Bay, the Firefly Field features 500 alternating light points that bear a heavy resemblance to fireflies, creating a dynamic light scene to trigger awe and curiosity of the natural world.
Lightwave: Isle of Light, Empowered by OPPO
Sponsored by OPPO is the Lightwave: Isle of Light, a multi-sensory journey located near the Red Dot Design Museum, closer to the Marina Bay Lower Boardwalk. Besides its captivating design and hues, we can't help but think it's the perfect spot for an Instagram shot.
Multisensory Light Experience
Compromising of five unique zones with immersive features, the Multisensory Light Experience, also backed by OPPO, features enchanting holographic projections, illuminated motion-capture graphics, and shadow play, along with light beams reminiscent of a mystical forest through the four seasons.
Do you even need more convincing to check out this one-of-a-kind art festival before it ends this week? With eye-catching, photogenic, and stunning light-art installations, this is your sign to visit i Light before it's too late. Otherwise, you'll have to wait until 2023.
The i Light Singapore festival runs until 26 June.
Address: Marina Bay Singapore, Singapore 238315
Opening Hours: 7:30pm to 11:00pm daily; Extended to midnight on Fridays and Saturdays
Contact: 8134 7768