As we walked up the narrow flight of stairs to reach Flow Bar, it almost felt like we were intruding into someone's private space. A quiet, cozy room with dim lighting waited for us at the top, decked out with brown leather couches, mid-century modern armchairs, and even a set of classic wooden railings. This had to be a living room.
Turns out that's exactly what its owner, award-winning mixologist Ricky Paiva, was aiming for when he created this charismatic watering hole.
"One thing I wanted was more of a relaxed atmosphere, a place to really chill and hang out," explained Paiva. "And I think the [best] place to relax is at your own home."
Located in the heart of Duxton Hill inside a charming shophouse, Flow Bar is a collaboration between 1-Michelin-star Restaurant JAG (which occupies the first floor) and Paiva. The seasoned bartender has nearly two decades of experience under his belt, creating and launching many renowned beverage programs and bars in the region. It only seems fitting for an acclaimed dining establishment to partner with a cocktail mastermind of the same caliber.
Building on his concept of enjoying food and drink in a comfortable environment, Paiva's menus are aptly named "Living Room", "Garden", and "Playground". Each featuring distinct drinks using fresh and homemade ingredients, guests will get a taste of familiarity, seasonality, as well as creativity.
Since we all have our home offices in the age of a pandemic-stricken world, Paiva has recently created a selection of post-work drinks called "The Office", which are stirred and more serious. Think Manhattans, Negronis, and other full-body cocktails that come to mind when you need a cool-down after a long day of hard work.
Collaborating with a restaurant means Paiva changes his menus every couple of months, notably when a new season rolls around. Paiva enjoys switching out one or two cocktails, introducing something new and fun, or simply going with the flow—when guests ask for something that isn't featured on the menu, the bartenders will make sure to help craft the requested drink.
"With the experience I've had, I know all these spirits very well, and I know most cocktails very well," said Paiva. "So, we can absolutely 100 percent craft that special cocktail for somebody as long as we have the stuff [ingredients]."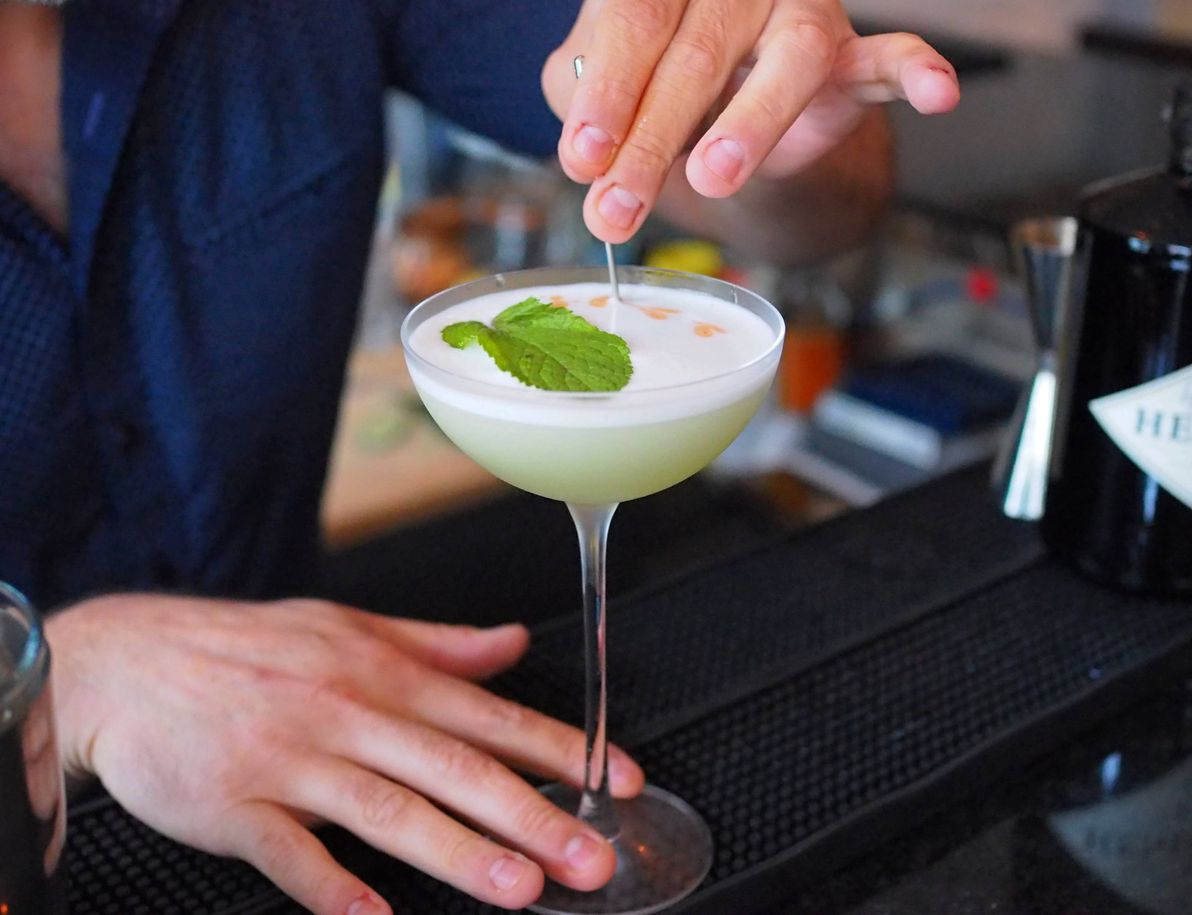 Keeping guests happy and seeing them enjoy their tipples is one of the main reasons why Flow Bar's owner continues to do what he does. Not only does he get to hone his craft on a daily basis, but he also gets to witness guests genuinely enjoy what he creates.
"It's that instant gratification of giving somebody that drink they enjoy and love it," he adds. "Maybe it's one they've had before, maybe it's a new drink. But really just give that hospitality and that good time for everybody."
Besides his evident talent and passion for crafting seriously tasty libations, he's also known for his camera-ready smile and signature mustache.
"They won't let me get rid of it," Paiva said with a chuckle.
Flow Bar may still be the new kid on the block, and it's no secret the bar scene is highly competitive here in Singapore. But it seems there are plenty of things worth discovering at this fun little spot, whether it's the unique cocktail menus, bespoke drinks, or the stories from the people who work behind the bar.
"We're still really finding our identity [and] where we want to be within the industry here," said Paiva. "But I believe what we're doing with Native is really kind of showcasing what we want our narrative to be. Not just making cocktails, but giving back to the community and teaching these cocktail classes."
A Special Hendrick's Edition: Gin Cocktail Masterclass led by Paiva will take place on March 13 and April 24, hosted in collaboration with Native.
"Monthly waffle parties will be starting soon, and we also have other fun events coming up that you'll just have to wait to find out," he added.
Before Paiva dashed out for a meeting, we had to ask him one last question: what was his favorite drink?
He insisted that question was like asking who his favorite kid is, but also explained most bartenders are tired of cocktails at the end of the day. So, a nice cold beer like an IPA with a shot of bourbon on the side is what you'll find him drinking on most days.