Singapore has many hidden secrets, and with the sheer amount of hotels in Singapore, some may slip under the radar. But when it comes to comfort, amenities, and overall guest experience, some luxury properties do it better than others.
From an underwater hotel to a speakeasy-themed stay, we've curated a list of the best hotel staycations to check out in Singapore right now.
Dusit Thani Laguna
Located within the lush grounds of the Laguna National Golf Resort Club, Dusit Thani Laguna is a relaxing, golf-themed getaway for staycationers seeking to spend some time in peaceful solitude. With exquisite suites offering unparalleled nature views, you'll never want to leave your room. If you're seeking to treat yourself to some relaxation and rejuvenation, the hotel's Devarana Spa will leave you feeling radiant with its Thai massages and facials.
Dusit Thani Laguna also has a wide variety of food options, from an al fresco bar and grill to award-winning restaurant The Nest, which brings guests a taste of Thailand from Singapore. We may not be able to travel right now due to the pandemic restrictions, but until then, you can get your Thai-style resort fix at Dusit Thani Laguna.
Website | Facebook | Instagram
Raffles Hotel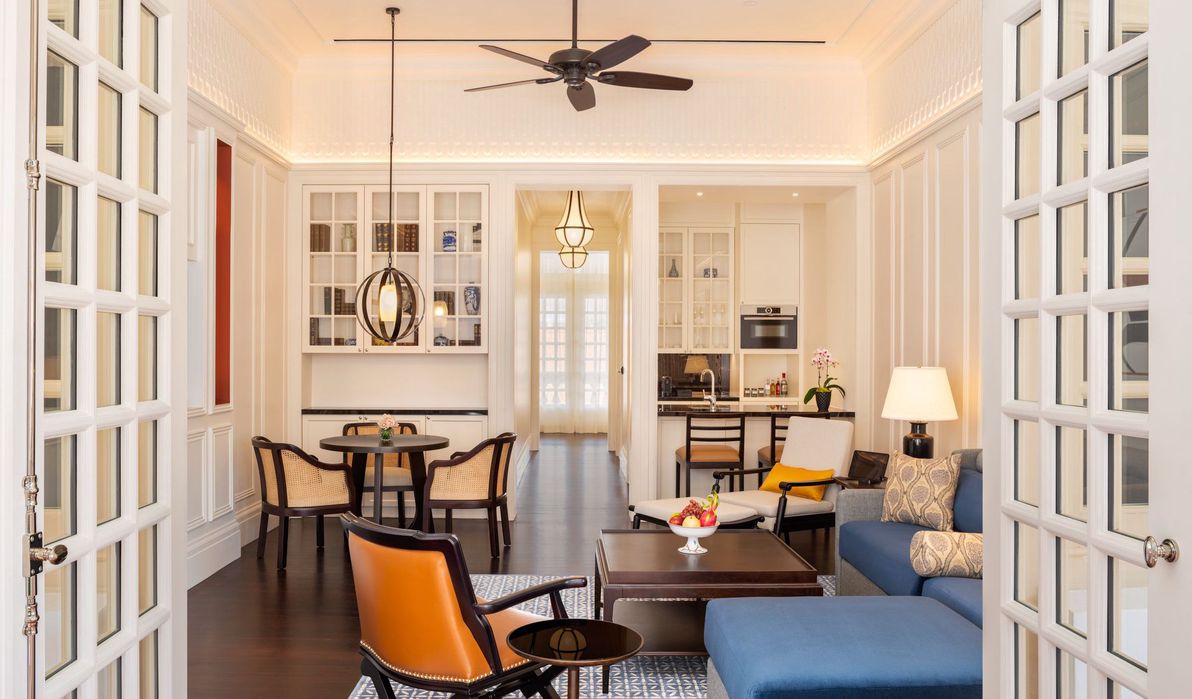 For those with deep pockets, you really can't miss the iconic Raffles Hotel situated in the heart of the city amidst the backdrop of the CBD. Recently restored and enhanced to give guests a refreshed experience, Raffles Hotel is Singapore's premier staycation destination. The hotel's exclusive suites have different themed rooms based on renowned guests such as Charlie Chaplin, Joseph Conrad, and Rudyard Kipling, who once visited the hotel. Boasting nine restaurants and bars, it's no surprise this hotel has one of the most in-house dining options available in Singapore.
Sip on Raffles Hotel's signature Singapore Sling at the Long Bar, or savor a gourmet feast by Masterchef Jereme Leung. Immerse yourself in the history of the hotel and Singapore with a guided tour, which will introduce you to the secrets and legacy of Raffles Hotel. For locals seeking a slice of history amidst a backdrop of refined luxury, Raffles hotel is sure to delight.
Website | Facebook | Instagram
Resorts World Sentosa – Ocean Suites
If you've been to S.E.A. Aquarium and spent time at the Open Ocean Habitat, you would have noticed an odd feature in the aquarium: windows built into the far edge of the aquarium itself. That's because they are actually hotel rooms, and very swanky ones at that. The Ocean Suites offer an exclusive view of the aquarium's 40,000 fishes, being the only underwater hotel in Singapore. With just 11 suites available for booking at any one time, you'll have to reserve your stay months in advance to get a night at the Ocean Suites on Sentosa.
Enjoy the best of land and sea with an above ground jacuzzi and outdoor patio, and a large underwater viewing window complete with a bathtub for soaking in the view (literally). While the suites do not have dining options, the nearest dining spot is conveniently located in S.E.A. Aquarium's Ocean Restaurant, an underwater restaurant offering gourmet cuisine and breathtaking views.
Website | Facebook | Instagram
The Vagabond Club
Eccentricity and old-world charm reign supreme at the Vagabond Club, a speakeasy-themed boutique hotel tucked away in Little India with an appealing personality. The hotel's Executive Club Lounge is the centrepiece of the concept, featuring an exclusive whiskey selection and an intricately decorated interior.
Velvet dominates the club's lounge, with plush chairs and red curtains evoking the feel of a bar in the Jazz Age. The hotel's eclectically decorated suites commit to the theme of eccentricity and excess, giving guests a Gatsby-esque experience. Travel back in time for a night or two at the Vagabond Club, where you can live out your staycation in style.
Website | Facebook | Instagram
The Clan Hotel
Immerse yourself in Chinese culture and tradition at the Clan Hotel, recently opened earlier this year and inspired by the Chinese clan associations of old Singapore. During your stay, guests will be treated to a traditional welcome tea ceremony, where you'll get the chance to sample the hotel's signature Nanyang tea blend and experience a Chinese tea ceremony.
Admire the view from Cross Street as you lounge in your suite, and if you want to get an in-depth look into the hotel's rich cultural experiences, attend a Chinese music appreciation workshop, or go on a food trail and rediscover forgotten delicacies. Finish off your day with a meal at Qin, the hotel's restaurant and bar by renowned chef Tung Lok. If you're seeking a cultural experience, the Clan Hotel will leave you satisfied and hungry for an actual journey to China.