There are many things we can celebrate about Singapore this National Day. From cultural events to the beautiful green and lush scenery, there is so much to be grateful for in our tiny red dot.
However, the one thing that makes Singapore extremely unique is its vast selection of cuisines. Singaporean food is extremely multicultural, taking inspiration from Malay, Chinese, Indian, and Arab cultures. This diversity is mainly influenced by immigrants who have contributed to Singapore's vibrant heritage.
In honor of Singapore's 57th birthday, here are the best local dishes to try in celebration of National Day this year!
Laksa
A spicy noodle dish popular in Southeast Asia, Laksa consists of thick rice noodles filled with savory toppings such as prawns, chicken, or fish. Variations of Laksa are prepared with a rich and spicy coconut soup, or a sour broth with chili. You'll fall in love at first bite.
Bak Kut Teh
Bak Kut Teh is a pork rib dish cooked in a flavorful broth. Translated from the Hokkien dialect as "meat bone tea", it is a simple dish consisting of pork ribs simmered in a broth of herbs and spices for hours. Common spices include star anise, cinnamon, cloves, and garlic. It is a comforting and warm dish, and is popular even in Singapore's warm and humid climate.
Hokkien Mee
Hokkien Mee originates from China's Fujian province. The Singaporean tradition of Hokkien Mee is dried, meaning it isn't soup based and usually consists of two types of noodles, either thick yellow egg noodles or thick white rice vermicelli. Each offers a unique blend of flavor and texture to accentuate the overall experience of the dish. It is topped with bean sprouts, lime, prawns and chili sauce.
Chicken Rice
This dish needs no introduction, but for those who are unfamiliar with its origins, Hainanese Chicken Rice was created by immigrants from Hainan in southern China. The dish is pretty simple to make, with its main ingredients being chicken, chicken stock, chicken fat, and rice cooked with oil. Singaporean chicken rice is usually very fragrant and aromatic with a subtle taste of chicken. The chicken is naturally tasty, flavourful and has a soft texture to it. Chicken Rice is a fan-favorite among Singaporean locals and tourists alike, and for good reason!
Char Kway Teow
Char Kway Teow is a stir-fried Chinese-inspired rice noodle dish from Maritime Southeast Asia. Char means "stir fried" and kway teow refers to flat rice noodles. Usually served with a blend of vegetables, prawns, spring onions and bean sprout, this is a must try and is served in almost every hawker center you'll find.
Oyster Omelet
The oyster omelet consists of an egg omelet with a filling of small oysters. Spicy chili sauce with lime juice is often added to the dish to give it an extra kick of spicy and sour. It is popular in Taiwan and many other Southeast Asian countries such as Thailand, Malaysia, and the Philippines because of its Hokkien and Teochew lineage.
Kaya Toast
Time for some sweet treats! Kaya Toast is a must-have item in Singapore. Consisting of two slices of toast slabbed over salted butter and kaya, it brings a wonderful mouthful of salty and sweet flavors. Kaya is a coconut jam made from coconut milk, eggs, and sugar, and is iconic in Southeast Asia. Pair this with a cup of Kopi, a type of Singaporean coffee, and your breakfast will be complete!
Ice Kacang
A dessert common in Malaysia, Ice Kacang is the perfect cool treat for the hot and humid Singapore weather. Made of shaved ice, red beans, jelly, two or three versions of sweet syrup, and evaporated milk, this sweet but cold treat is a childhood favorite of many, and is common around hawker cents and street vendors.
Durian
Singapore's favorite fruit and one not to miss (if you can stand its stench). Crowned as the "king of fruits", the Durian is known for its large size, strong odor, and thorn-covered outer shell. Some find the taste sweet and fragrant, whereas others find it overpowering and unpleasant. In addition to the fruit itself, Durian is used in a wide variety of sweet and savory desserts. From ice cream to tarts to cakes, the options are endless.
Nasi Lemak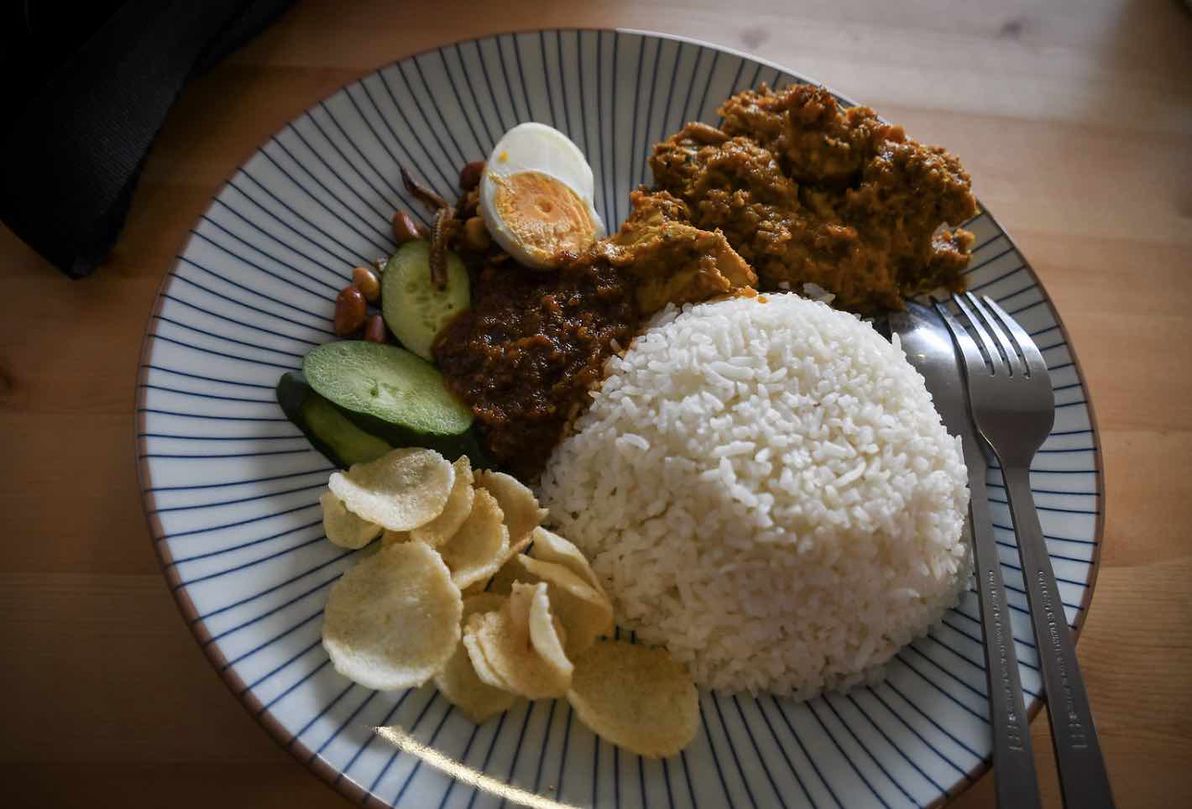 Originating in Malay cuisine, Nasi Lemak consists of fragrant rice cooked in coconut milk and served on a pandan leaf. It is served with a side of sambal chili, a spicy chili paste made from a mixture of various chili peppers. It is also common for Nasi Lemak to be served with a hard boiled egg, peanuts, anchovy, and cucumber on the side.